Training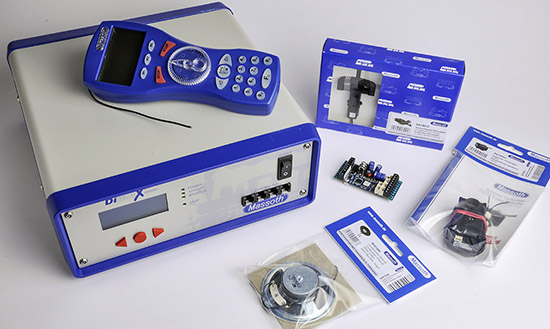 We offer training courses for Massoth and Piko control systems. The training takes place at our premises in Princes Risborough and the price includes a light lunch and refreshments.
There will also be a 10% discount on Massoth and Piko equipment on the training day.
We usually run courses for both beginners and advanced users on different dates and the next available dates are:
Basic Massoth Course – £35 (max 12 people)
Saturday 11th May 2019
Advanced Massoth Course – £50 (max 8 people)
Saturday 8th June 2019
Courses run from 10am through to 3pm on each of these dates.
Please note that full payment is required at the time of booking.
Telephone 01844 345158 to book your place now – limited availability
Basic Course Content:
The course will encompass the following areas of DCC operation, compare DCC and analogue systems with the aim to provide an introduction to Digital Command & Control, allowing the user to make an informed comparison between analogue and digital control while helping to decide which digital modules to invest in.
• Difference between digital and analogue systems
• Introduction to simple DCC layouts
• How does DCC control your motive power?
• What are the DCC components and why you need them
• What are CVs for and what do they do?
• Basic DCC wiring
• Understanding point working & control
• And what about loops?
• Review the various Massoth digital modules
• What do the Central Station and Navigator do & their set up
• Massoth wireless control
• The PC module and its software
• Understanding basic CV programming using the PC module
• Downloading and use of sound files
• New systems
• Followed by a hands on session
Advanced Course Content:
The course will encompass the following areas of DCC operation with the aim to provide the tools to enhance your railway. The course will be specific to digital and will use Massoth Digital Systems to illustrate detailed areas of digital command and control.
• Refresh previous knowledge
• Understand the decoder connections
• Using / programming CVs
• Sound download and setup
• CV setup and download
• More on reversing loops
• Point and route programming
• Consist programming
• Smoke units – standard and pulsed
• Auto-couplers
• Coach / firebox lighting
• Power buffers
• Reed switches
• Wireless and radio control
• Followed by a hands on session